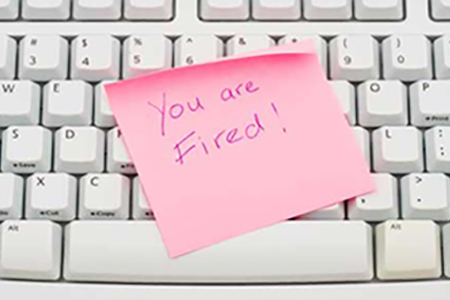 The State of Florida is an employment-at-will jurisdiction. What that means is, employers can terminate their employees with or without cause. In most situations, employers don't have to provide advance termination notice. Although employers can typically let their employees go without notice or cause, federal employment laws are a little different, and require them to provide termination notice if they terminate a large number of employees. Anti-discrimination employment regulations prohibit employers from firing their employees, if they are discriminating against them or for other malicious reasons. Florida employers must comply with anti-discrimination laws, advance notice requirements and last paycheck laws when it comes time to fire an employee.
Florida gives employers the option of terminating any employee at any time, for any reason, or for no reason at all. Sometimes employee agreements or contracts contradict the at-will policy. If you have an employee contract, check the wording, or have a lawyer look it over for you, to make sure where you stand. You should document instances of poor performance and tardiness, and maintain good records of employee performance reviews and any previous disciplinary interventions. This will provide legitimacy to your actions and prevent any complaints, lawsuits or accusations that termination was discriminatory. Keep these records, even after the employee has left, and have a cheat sheet of documented performance lapses on hand to refer to during the termination meeting.
You have to comply with federal whistle-blowing laws. Firing an employee based on a previous complaint alleging your failure to comply with health and safety regulations, wage laws or your failure to comply with any other state or federal employment law, is illegal.
COBRA is a federal law that applies to employers with more than 20 employees. If these employers administer a group health plan, they are required to offer terminated employees, their spouses and dependents the option of temporary continuation of health coverage at group rates. Terminated employees may be excluded from the plan if they were fired for gross misconduct.
Pay your terminated employee by your next regular payday following termination. The U.S. Department of Labor does not require that you pay your terminated employees immediately, and the Florida Agency for Workforce Innovation, which administers the state's labor laws, does not require you to pay your employees until your next regularly occurring pay date.
Nobody likes to fire or be fired, but to make it simpler, you can briefly deliver the news by summarizing the well-documented, job-related reasons for the termination. That way, while the employee may not like it, he or she will have little to dispute. Allow them to offer what they have to say, and listen. Always avoid using any harsh words during termination meetings that would serve only to inflame the issue. Stick to the facts; don't make generalizing statements.
Last Updated on April 18, 2017 by The Orlando Law Group