OLG LEGAL COMMENTARY:
Jennifer Englert
OLG Founder & Managing Partner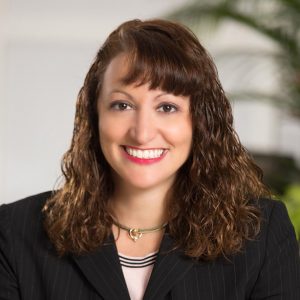 It may be difficult to ascertain what exactly has changed under the new Tax Cuts and Jobs Act and how these changes may affect you and your business. This article will provide an overview of how the new tax law will affect business, whether you are part of a large corporation or own your own small business, by identifying the information you need to know about each major provision.
What's changed for corporations under the new Tax Cuts and Jobs Act?
Under the previous law, corporations were taxed under a four-step graduated rate structure, with 35% as the top corporate tax rate. Effective on January 1st, 2018, the top corporate tax rate was permanently cut to 21%. The new tax rate is a single flat tax, meaning it applies to all C corporations. Under the new law, the corporate alternative minimum tax rate was also eliminated.
What's changed if I own a small business?
Under the previous law, businesses organized as sole proprietorships, limited liability companies (LLCs), partnerships, and S corporations did not pay corporate tax rates. Business owners instead paid individual income taxes on their share of the business's income, a process known as pass-through business taxes. Thus, those tax rates were the same as the regular personal income tax rates. Under the new law, individual tax rates were reduced from 39.6% to 37%.
Effective on January 1st, 2018, the Tax Cuts and Jobs Act allows pass-through business owners may now deduct up to 20% of their qualified business income. This deduction is subject to a number of limitations, one of which caps the 20% exemption at the greater of 50% of the wages paid to employees and reported on a W-2 form, or 25% of those wages paid plus 2.5% of the cost of depreciable property owned by the business or depreciable capital assets. One limitation on this deduction is married couples who own service-based businesses like law firms, doctor's offices, and accounting firms can only claim the deduction if their annual income is below $315,000 ($157,500 if single). This provision of the new law will expire after 2025.
The new law will apply to all pass-through businesses, including sole proprietorships, LLCs, partnerships, and S corporations. The following example demonstrates how the 20% deduction would apply, not subject to any limitations. If you own a small business and it generates net business taxable income of $500,000, you may deduct $100,000 (20%) of it before the personal income tax rates are applied.
Business Loan Interest Deductions
Under the previous law, any interest a business paid on their business loans was generally deductible. Under the new Tax Cuts and Jobs Act law, a business may only deduct interest expenses equal to 30% of its adjusted taxable income. Furthermore, under the previous law, if a business carried a net operating loss (NOL), it had the option to use those losses to either reduce any taxes paid in the previous two years, or to reduce any future taxable income for the next twenty years. Under the new law, net operating losses are reduced and can only be carried forward to reduce any future taxable income and are limited to 80% of taxable income. Past taxes may no longer be reduced by a NOL deduction.
Other Deductions as they relate to the 2018 Tax Cuts and Jobs Act
Entertainment Expenses: Under the previous law, costs expended entertaining clients were 50% deductible. However, under the new law, entertaining clients is notdeductible at all. Holiday parties and other similar workplace events for employees are still 100% deductible.
Business Travel: The cost of meals and drinks purchased during business travel is still eligible for deduction. As for business vehicles, for both new and used passenger vehicles that are acquired and placed into service after December 31st, 2017, the new tax law increased depreciation allowances. The vehicle must also be used over 50% of the time for business purposes. An $18,000 deduction may be taken for a new car the first year you own it if you claim first year-bonus depreciation. The allowance then decreases per year to $16,000 for the second year, $9,600 for the third year, and $5,760 for the fourth year and after until the vehicle is fully depreciated. If you purchase an SUV or a truck, the vehicle is now 100% deductible.
First-Year Bonus Depreciation: Businesses making eligible equipment and property purchases can immediately deduct 100% of the purchase through 2022, which is an increase from 50% under the previous law. After 2022, bonus depreciation phases down 20% every year until it reaches 20% in 2026.
While this article provides an overview of the how the new Tax Cuts and Jobs Act law may affect how your business is taxed and what deductions you may make, it is important to consult with your attorney regarding all of the factors that may affect your business as the new tax law could have further implications on your business.
Last Updated on January 12, 2022 by The Orlando Law Group